General
Name: Luna Eclipse
Age: 19
Date of Birth: Sept 7th
Gender: Female
Race: Demi-elemental spirit*
*this does not mean she is a ghost she has a solid physical body and her spirit can't seperate from her body
Hobbies: Watching People and making freinds
Likes: Girls and boys if they are really cute and nice
Dislikes: Idoits and people who think they are powerful and her self at times, Boy most of the time
Personality:She does not remeber her Personality but she is now a Scared person but can fight still and seems she still can use her Katana and is nice to evryone and Flirts with Girls alot.
Physical
Height: 5'5
Weight:55 Kg
sizes (for woman, chest size):C
Eye color: Blue
Hair color: White
Hair Style: Ribboned and band
Outfit: What she wears
Extras: A tattoo of a White Rose on her Left Breast
Appearance: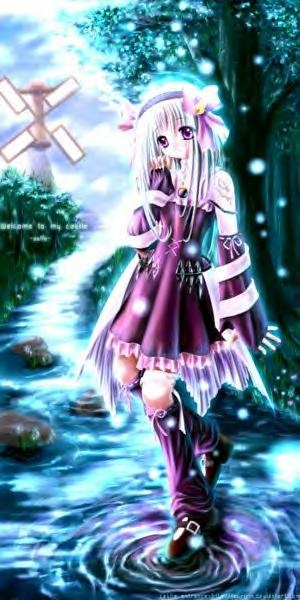 Misc.
Ability: can manuplulate Lightning through almost any Metal and can Conjure it to her hands. She has been mistaken for a Witch.
History: She does not remember anything after and powerful attack knocked her out.
Weapons: a Katana that is on her Back and is mainly used for lightning Attacks
class/level: B-Class
Last edited by Luna on Mon Aug 30, 2010 9:27 pm; edited 1 time in total
C-Rank (Green)




Posts

: 38


Power Level

: 325


Join date

: 2010-08-30


Location

: Either With Team Dykendou or With Corey (L Grimm)

Character sheet
Mana:


(600/600)


Health:


(600/600)


Cash: 0


DO NOT post in accepted, you first post in pedning and we the admin/itmin/mods move it too approved when it is approved

_________________
"I'm the bon of my fire| Gasoline is my body, burning my soul | I have set aflame, over athousand pants| unaware of objection, nor of pity| withstood -no's- to set him ablaze many times| yet this pants will never be warm | so, as I pray - unlimited blaze works" 'Quote Areos'
Lycan T. Rophy
Health: 930/950
Mana: 675/720
Emperor




Posts

: 771


Power Level

: 3001


Join date

: 2009-09-17


Age

: 29


Location

: i wish i knew o.o

Character sheet
Mana:


(565/800)


Health:


(185/400)


Cash: 7 kyi


C-Rank (Green)




Posts

: 38


Power Level

: 325


Join date

: 2010-08-30


Location

: Either With Team Dykendou or With Corey (L Grimm)

Character sheet
Mana:


(600/600)


Health:


(600/600)


Cash: 0


_________________
"I'm the bon of my fire| Gasoline is my body, burning my soul | I have set aflame, over athousand pants| unaware of objection, nor of pity| withstood -no's- to set him ablaze many times| yet this pants will never be warm | so, as I pray - unlimited blaze works" 'Quote Areos'
Lycan T. Rophy
Health: 930/950
Mana: 675/720
Emperor




Posts

: 771


Power Level

: 3001


Join date

: 2009-09-17


Age

: 29


Location

: i wish i knew o.o

Character sheet
Mana:


(565/800)


Health:


(185/400)


Cash: 7 kyi




Similar topics
---
Permissions in this forum:
You
cannot
reply to topics in this forum